Plus pattern + how to stop your giant granny square twisting
I tend to favour quick crochet projects, being the impatient sort of person I am. But a girl can only look at so many beautiful crochet blanket patterns on pinterest and instagram without feeling the need to make her own…
I chose the classic giant granny square as my first blanket and used the luscious Attic 24 colour pack in original by Wool Warehouse.
I surprised myself by really loving having a big project on the go. I had to pick it up and put it down a couple of times while I made other things, but always enjoyed having it as a back up. In fact, I'm starting to get itchy fingers again now, thinking about how I could start another one.
The thing that really kept me going (especially as the rounds got bigger and bigger) was the desire to get to the next colour and watch how each one transformed the look of the blanket. I wanted something happy and bright to cheer up my craft room sofa and it's definitely that! Plus, as you can see from some of the pictures, I love it so much that it keeps sneaking down to the rocking chair in our living room too.
Read on for the super easy pattern and some top tips to stop the square tilting…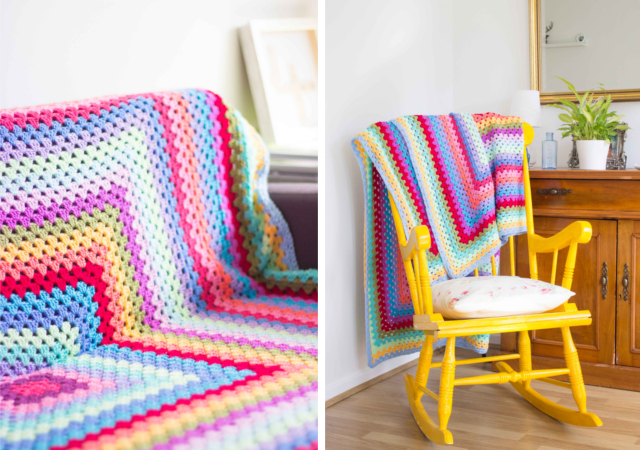 Granny square blanket pattern
Yes, you probably know how to make a granny square so a giant granny square blanket might seem like a no-brainer. However, as someone who'd only done two or three round granny squares before, as I added more rounds the square started to twist and turn out of shape. So I did some research and here's some tips to stop your square twisting written into pattern form (UK terms).
Ch – Chain
Tr – Treble crochet
Sl st – slip stitch
Ch 4, sl st to form a magic loop
Ch 3, then tr 2 into the centre of the magic loop ch 2, *tr 3, ch 2 three more times. Until you have four sets of trebles. Sl st into top of the chain 3.
Sl st along to the corner, then ch 3, tr 2, ch 2, tr 3 into same space. *tr 3 into next space, ch 2, tr 3 into same space. Repeat three more times until you have eight sets of treble 3. Sl st into top of ch 3 to join, then break yarn.
Flip the work over and join new colour in the middle of one of your sides, not at a corner.
Then continue to work tr 3 into each gap with a tr 3, ch 2, tr 3 on the corners and change colour every two rounds.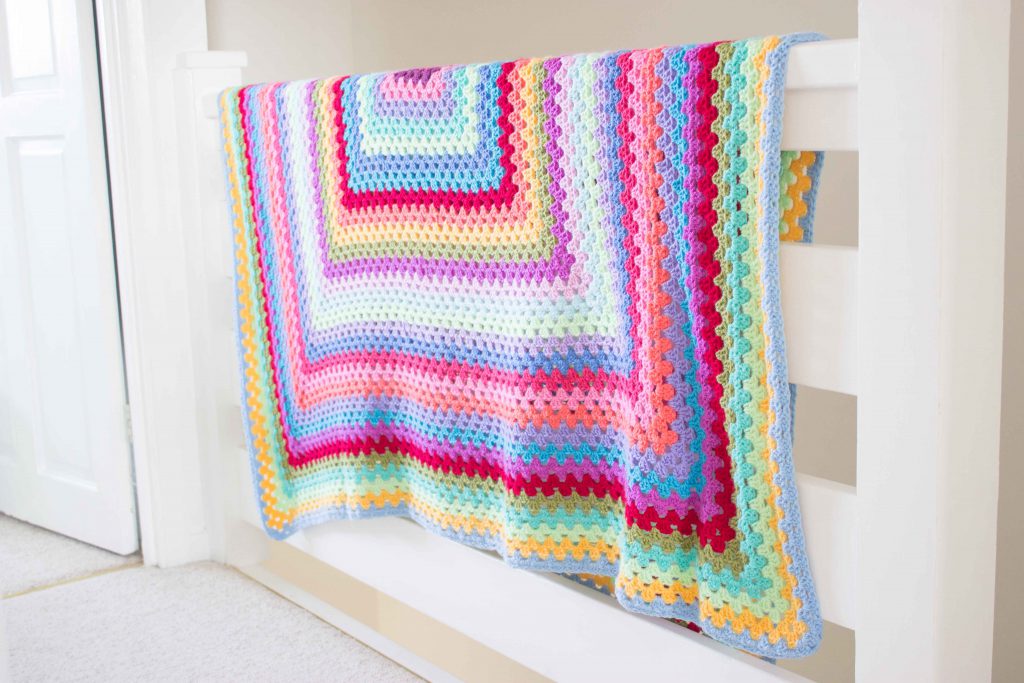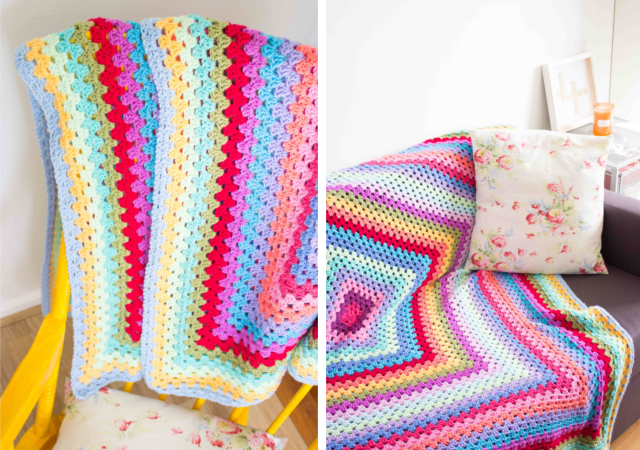 How to avoid your granny square twisting
So the parts of the above pattern that help avoid twisting as your granny square grows are:
– Only make 2 chain stitches at each corner (some traditional patterns chain 3)
– Don't chain 1 in between your clusters of trebles
– Flip your work over after each colour change so you work into both the front and the back
– Join each new round at the middle of one of your sides, not at a corner.
Easy, but effective. I'm off to go stare at my new blanket some more.