With the #crocehttherapy and #crochetastherapy hashtags having just under 400,000 posts between them and the news that GPs are due to start prescribing that arts and crafts as part of a new practice called social prescribing, it's not surprising that more and more of us are discovering the metal health benefits of crochet.
Guardian writer Jennifer Macey's recent article Happy hookers: how prescribing creativity might help wellbeing, featured research from Dr Pippa Burns, a medical researcher at the University of Wollongong.
Macey writes that 'After surveying more than 8,000 crocheters, Burns found that 89.5% of respondents reported the practice made them feel calmer, while 82% felt happier.'
The findings don't surprise Burns, who also crochets. "It's very mindful because you're counting stitches. You're not thinking about who said what at work or what you need to do tomorrow. You're just focused on what you're creating."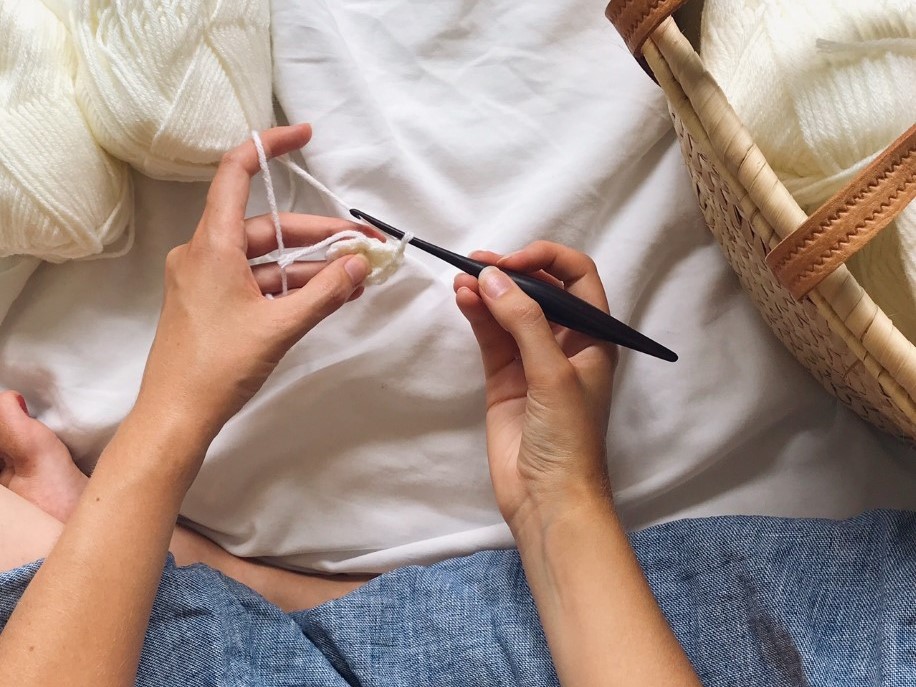 So, how exactly does it work?
1. Repetitive stitches can have the same benefits as meditation
If you're working a large section of repeat stitches, the rhythm of moving your hands and yarn can mimic meditation. Some people find it easier than meditation as you have to concentrate just enough to keep other intrusive thoughts at bay. As you are working try to relax your shoulders and unclench your jaw to increase the meditative benefits. I often design my patterns to include repeat sections with this meditation time in mind.
2. Reduces your screen time – you can't scroll and crochet
We all know too much screen time is bad for us, but does anyone else's hand seem to have a mind of its own when it comes to reaching for your phone or opening THAT app… five minutes after you last checked it? Good news, crocheting keeps your hands busy so no more constant phone pick-ups and mindless scrolling. Just watch that average screen time drop.
3. It gives your brain a focus and can help distract from anxiety and stress
Crochet allows you to focus on the present and what you're making, quietening negative or intrusive thoughts in the process. It has also been shown to increase patience, which has a positive effect on your mood. Plus, for those of us who struggle with the idea of doing nothing, picking up some yarn and a hook while watching TV or listening to a podcast allows you to relax while still feeling that you're producing something with your time. Win. win.
4. Group crochet can improve your mood
The BBC's Great British Creativity test found that taking part in group creativity also had a positive impact on wellbeing, particularly face-to-face activities, but virtual and online activities also offered an emotional benefit. So whether that's through a crochet workshop, joining a local crochet group, taking part in CALs (crochet alongs) or simply chatting with other crocheters on Instagram, finding likeminded people to share your passion with will also help boost your mood.
How does crochet help you? Share your experiences in the comments!